Switchback® technology is the game-changing ride system from Ziptrek Technologies & Holmes Solutions that offers the ultimate flexibility in ride design and layout. The main ingredient in our ride disrupting recipe is the ability to transition seamlessly between cable and rail at speed.
Learn how Switchback® technology can take your next project to another level through the combination of cables, rails, and creativity. Our technology and new powered vehicles blur the lines between amusement rides and elevated tours.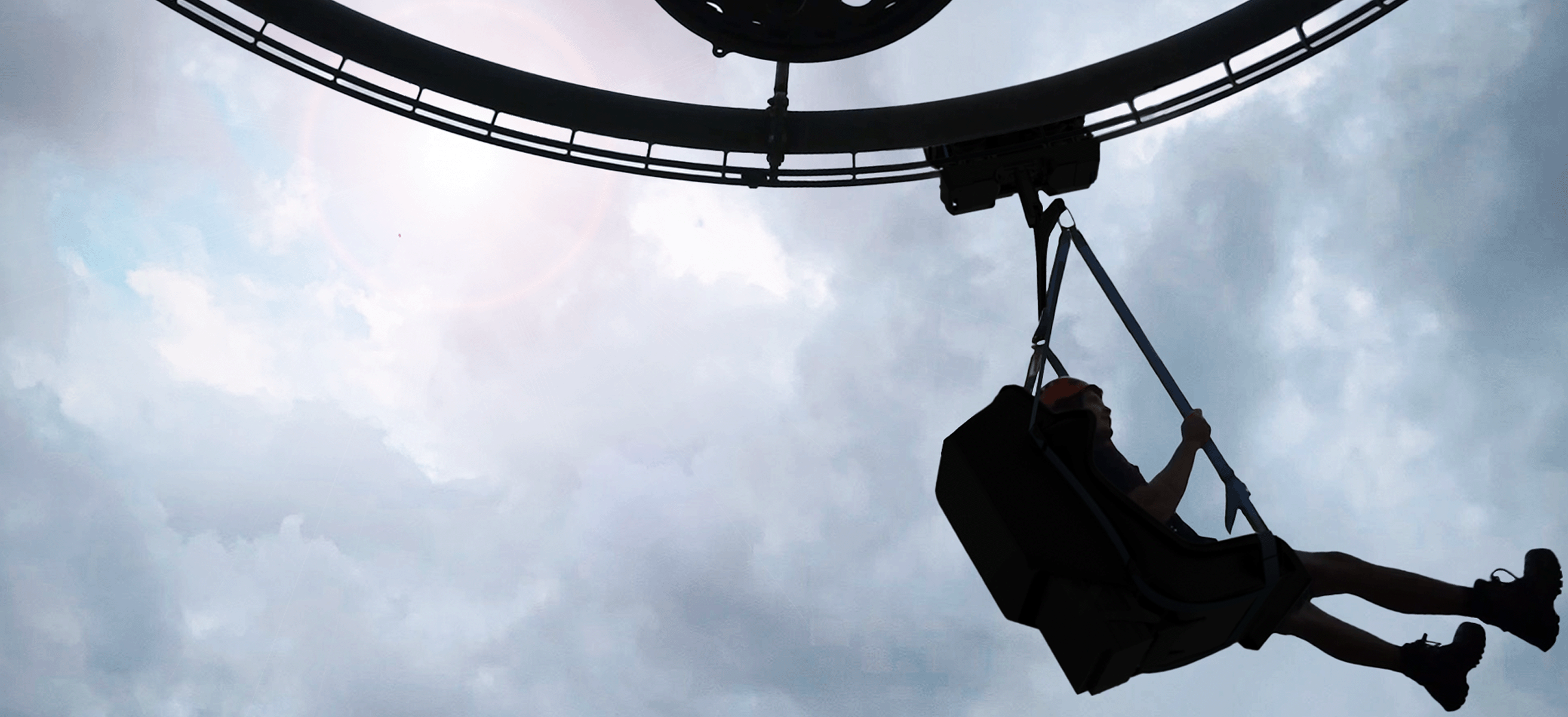 SWITCHBACK® RIDE TECHNOLOGY 101
Switchback® technology is an innovative ride system that seamlessly integrates cable and rail. Riders can transfer between cable and rail at speed. With the combined powers of cable and rail, our Switchback® technology can travel long distances, turn corners, drop into helixes, take varying pathways, fly through the trees or along a cliffside all in one ride. The possibilities are endless.
Cable is affordable and efficient. Rail is creative and interactive.
We're now introducing our new powered Switchback® vehicles with single or tandem seat options. We've taken Switchback® ride technology to the next level. Our new system can go up, down, turn, and stop on a dime - allowing ride designers to let their imaginations run wild. Get an introduction to what's possible in the video below.

CABLE TO RAIL TRANSITIONS
The core of the Switchback® DNA is the seamless integration between cable and rail at speed. This breakthrough technology expands design possibilities. Watch the video below for an overview on how our cable to rail transitions work.

Dialing in the rider experience.
Switchback® technology lets you customize the rider experience. That experience starts with seat options. Switchback® technology offer single and tandem rider options, providing a safe and comfortable experience while optimizing throughput.
But that's not all, the control system and advanced swing dampening technology allow ride designers and operators to fully tune the rider experience.
Create a ride experience exactly as you imagined it with a responsive vehicle system. Whether you've created a chill tour ride, a thrill experience, or a combination of both, with Switchback® you're in control.
Contact us to look behind the scenes and learn about our custom control software. We'll also show you our launch and landing zones, rescue procedures, and dig into the details of our remarkable rider throughput.

The Benefits
The flexibility of cable is just one of the features that make Switchback® technology beneficial to our clients. The commitment to safety, paired with installation flexibility and high throughput combine to make our technology a winner.
1. Flexible Design
Traverse ski slopes or cross over packed tourist corridors. Helix through trees or land in a nightclub.
2. Terrific ROI
No stopping to change direction. Switchback® technology keeps riders moving, amplifying your revenue.
3. Unparalled Safety
Safety is an engineering priority. Switchback® riders enjoy thrills while staying secure.